Power of earth ignites the Soil Lamp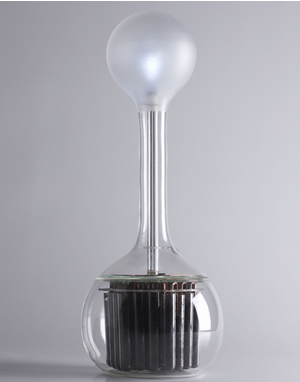 You were taught that soil merely provides nourishment to plants and you held it at that point only! But the latest in our green world is that that same soil can provide us with light too. That's the difference buddy, you gotto have a green brain to understand such concepts. The Soil Lamp is what I am talking of. Using mud to ignite, this is undoubtedly the best use of one of the most abundant elements on earth. The metabolism of biological life produces enough electricity to keep a LED lamp burning. The mud that is enclosed in various cells is teamed with copper and zinc that helps to conduct the electricity. The more cells there are, the more electricity they generate. Designed by Marieke Staps, a student of Design Academy Eindhoven, he has used a glass case shaped like a bulbed flask to exhibit the simplicity of this procedure. He has also mentioned that the soil needs to be damp. But Marieke, do we need to water this mud everyday….just like we do when they provide food to plants.
Enjoyed this post? Please share the love...