V-Pole could revolutionize multiple utility infrastructure
Imagine a street where multiple poles providing WiFi access, EV charging and street lighting didn't exist but were instead replaced by an attractive 'V-Pole' that could cater to all these requirements. Canadian artist and writer Douglas Coupland has designed such a utility pole that not only takes care of a lot of functions but looks attractive as well. Though not intended for commercial production, the V-Pole shows us how just one mechanism can do the work of three or four others.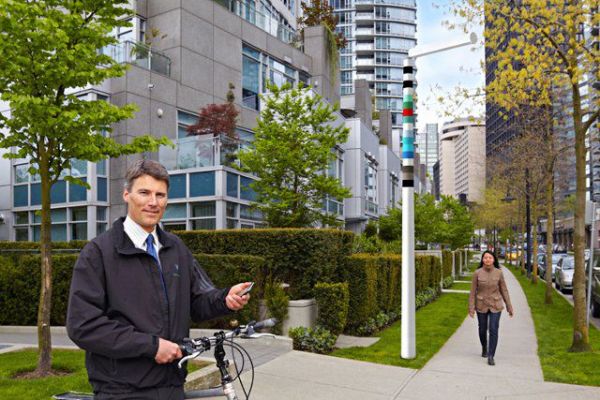 Coupland is a man with a deep interest for technology and culture. It's no wonder, then, that the V-Pole seeks to marry the two and become a mechanism for the masses. The modular utility pole is connected to various underground optical cables that enable it to do what it does best: multitask.
Such urban utility poles would undoubtedly require much of the existing infrastructure to be torn down and rebuilt. But the fact that it performs the task of multiple utilities means that cities and townships won't need to increase their budget for the setting up of new but conventional infrastructure. The V-Pole looks good too and doesn't take up too much space. With its clean lines, we can reduce the need for multiple utility poles with only a couple.
Coupland's invention has been well received by the mayor of Vancouver and his endorsement has even gained international interest. It wouldn't be farfetched to assume that the V-Pole could soon make its way into Vancouver as Mayor Gregor Robertson has been quite the tech booster in the city. One of the biggest advantages to using the V-Pole commercially would be the availability of WiFi almost all over the region as well as boosting technological infrastructure in the city.
In an announcement, Coupland said that the time has come for partnerships to begin as the venture is a huge entrepreneurial opportunity.
Via: Ubergizmo