Manufacturing industries across the world often cause a great deal of damage to the environment through the discharge of both poisonous and harmless wastes. The textile industry which is one of the oldest industries in the world and occupies a unique place in our city, involves certain processes that cause pollution and harm the environment in many ways. The fabric waste that the industry generates from the left over material after going through the production process is disposed off as trash, which ends up in the landfills, adding to the waste problem. A team of designers, have used up this fabric waste and have designed a bench made out of these unused textiles.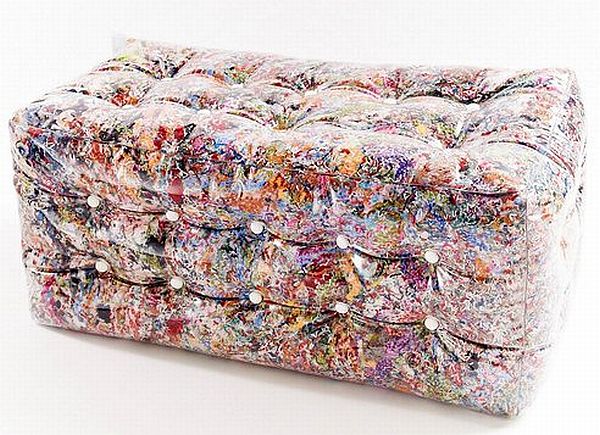 This bench dubbed as "Plof" by its designers, which looks more like a modern art painting, is actually made up of tattered, unused textiles; leftover from the industrial production of carpets. It was displayed for the public appreciation on the Outdoorz Gallery. The Plof is upholstered with crystal clear polyethylene plastic. All the rags of the fabric left over is woven together and then enclosed in a transparent plastic, so that all the different colors of the various pieces of fabric blend together to form a colorful piece of furniture. Furthermore, as a fresh, new lot of colorful textiles are shredded for each bench, no two benches are the same and every bench seems to be unique in its own different way.
The best part of this design is that, it puts these perfectly good materials to use rather than letting them pile up as waste and end up into the landfill. The Polf is another great example of eco friendly furniture and is far more comfortable than the ordinary benches.
Via:Treehugger