Parinee I: Sustainable 'Bollywood' offices project designed by James Law Cybertecture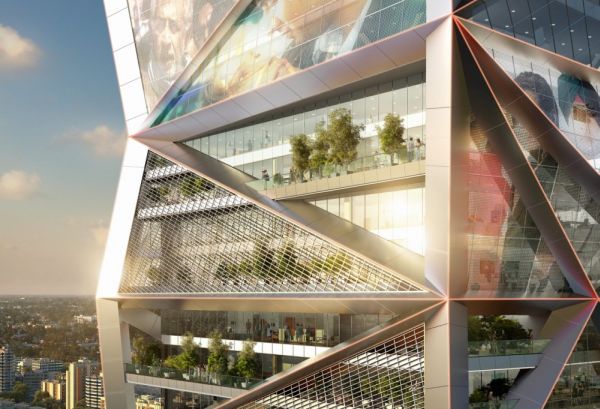 Designed by James Law Cybertecture International – the Parinee I is a futuristic project for Parinee Developer Pvt. Ltd. in the heart of Mumbai that will be the first every integrated exclusive 'Bollywood' creative offices and other spaces. This 160m tall structure is touted to be the next architectural breakthrough with its distinct diagonal facade that have LED screens attached in order to provide a live trailer or advertisements of upcoming movies on the building itself! But the best part about this hi-tech modernistic architecture is that it is sustainable and eco friendly and will not be an encumbrance to life in Mumbai.
The design of the Parinee I is such that it appears to be tilted at various angles on the outside which is very unique and creative. The inside is also very futuristic as the inner designs draw their inspiration from the ever so dynamic Indian film industry with unique themes for each space. A lot of research, engineering and creative inputs have gone into the plan for shaping a tower that is very unique in appearance, but also very environmental-friendly. The building has various spaces that are allocated for specific purposes like the "i"magination-Lobby, "i"conic-Auditorium, "i"ntegrate-facade and "i"dentity-office respectively.
The building materials used comprise of low-volatile organic components. There is also an effective rainwater harvesting system, to make the most of Mumbai rains – as the water can be used in washrooms after treatment. The building will also have a sewage reclamation plant. The skyscraper would also have an extremely efficient energy system so as to avoid wastage of power. Furthermore, the glass facade is also quite effective in keeping the building cool and regulating temperature inside the premises.
The Parinee I, after it is constructed, would definitely be a wonderful architectural design that would be a source of inspiration to others for building the 'green' way and would also provide 'Bollywood' a swanky new abode!
Via: ArchDaily