Panterragaffe: A giant two-seater walking machine that is powered by pedals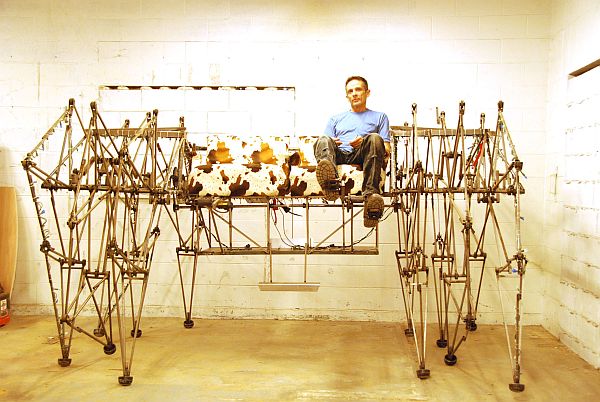 We have revealed many highfalutin concepts; we have remarked upon a myriad of innovative products, but the above-pictured conception has the potentiality to take the top honors for novelty of design. Inspired by the kinetic sculptures of Theo Jansen and dubbed as the Panterragaffe, the contraption can quite literally be described as a pedal-powered version of a transformer (albeit in a more rudimentary scale). That is right; it is a pedal-powered walking machine that can be operated by two persons sitting in it.
Starting its journey as a mere public exhibition piece, the seven-inch prototype made its transition into a 700 pound, two-seater capacity walking machine by the sheer determination of the designers. Structurally it consists of two separate leg boxes (at the flanks) with a sort of couch-like seat with pedals, supported at the middle. Each leg box contains three pair of metallic legs, formed by joining of angled rods at singular points. So a grand total of six pairs of legs with heavy steel metal cups at their feet allows the machine to easily support itself with minimal friction during corner maneuvering. The whole contraption is made from mild steel with ball bearing joints and pivots, with the leg boxes being separate components connected by hitch pins. This allows the portable machine to be disassembled, carried, and then again assembled at a whim.
The steering mechanism is determined by the crank shafts connected to each of the leg box component. These shafts can in turn be driven by the pedals from the seating area. When turning by a corner, one of the drivers can simply stop pedaling, while the other continues to do so (the aforementioned metal cups reduce frictional force during corner turnings). The sturdiness of structure accompanied by the inherent flexibility gives us an impression of a giant mechanized spider on the prowl. So while this monster rests at a manufacturing facility in West Vancouver, do not forget to gawk at the special video!
Via: Metrods