PacWind: Vertical axis wind turbine at home!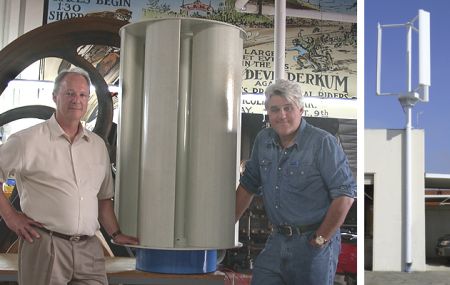 Wind machines were used for grinding grain in Persia as early as 200 B.C. Those giant windmills are pretty much a nonstarter for individual residences. Imagine a loud whoop-whoop-whoop coming from your neighbor's roof. Not. So I was happy to see vertically oriented wind turbines, sold by PacWind, that are not only said to be friendly to birds, but also are appropriate for use in urban areas. Ed Begley Jr. is a spokesman for the company and points out that PacWind turbines are silent and compatible with solar power and grid-tied systems.
The smallest unit offered by PacWind is the Seahawk. It is 30 inches wide and 48 inches tall, costs about $3,000 and can be used for homes, boats, buildings, lighting, emergency power and remote power, such as an automatic gate at the end of a long driveway. The SeaHawk, the first turbine in a series has a power output of 1 Kilowatt and a maximum power output of 3.4 Kilowatts. The SeaHawk measures 55 inches High by 30 inches in diameter. The PacWind VAWT is scaleable to Megawatt class turbines.
The PacWind VAWTs are architecturally and aesthetically pleasing in stand alone fashion or installed in VAWT towers of up to five turbines high. The PacWind VAWT towers allow for extremely compact utilization of the wind's energy in urban as well as rural areas, while at the same time allowing the turbines to simply blend into their architectural surroundings.
Whenever the wind blows, you can kiss your electric bills good-bye… and wherever the wind blows, you will find a perfect spot for a PacWind turbine!
Via: Ekkoinfo