A cozy retreat in the woods, surrounded by nature, is the ideal way to get away from a busy week. But not everyone can afford to build a cabin and what with the cost of materials and labor, the concept can seem pretty overwhelming. But a Finnish man by the name of Robin Falck has overcome these odds to construct a small yet charming and cozy cabin in the middle of a forest. Called Nido, the micro cabin was built for Falck to relax in after coming out of the military.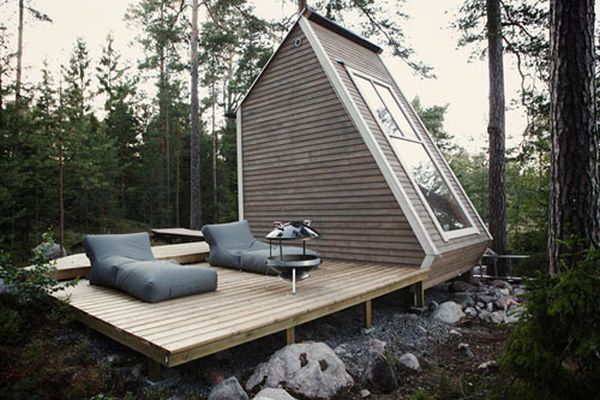 Finland imposes certain regulations that restrict small homes and cabins built without a permit from being larger than 96 to 128 square feet. Falck kept this in mind for Nido and restricted its size to 96 sq feet with a loft space measuring 50 sq feet. The loft houses space to store clothing and a bed. But what the most impressive feature of Nido is are the recycled materials used in its construction. This would have significantly brought down the cost of building the cabin and Falck is said to have shelled out a total of $10,500, including labor costs.
Nido has a deck adjacent to it where sleeping beds or lounge chairs can be kept. The interior is light and airy with no paint job as far as we can tell. Cream-colored chairs and a sofa give the illusion of more space while a rustic wooden table adds to the natural colors. The cabin can be accessed via a wooden walkway.
While micro cabins aren't ideal for those with families, they do offer an affordable way out to get that retreat of your dreams. Sourcing recycled materials and reclaimed wood from junkyards and even people's backyards can help you cut costs. The money saved can be used to purchase and install a few solar panels to get your cabin off the grid as well.
Via: Designmilk