The urban heat island effect is a strange phenomenon that sees cities recording an increase in temperatures than their surrounding regions. The difference can be significant, leading homes and offices to increase their electricity usage, thereby further adding to greenhouse gas emissions. The city of New York is looking to reverse this trend by literally brightening rooftops to reflect heat from the sun's rays.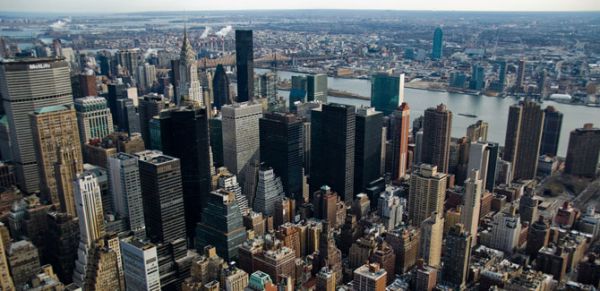 Many NYC buildings sport dark or black rooftops owing to the use of asphalt and tar which are known for their waterproof properties, toughness and easy application. But these dark rooftops pose a problem in terms of the urban heat island effect by absorbing too much sunlight and increasing overall temperatures. As such, residents of cities tend to turn up the air conditioning and other cooling machinery, leading to an increased consumption of energy and adding to the greenhouse effect. The phenomenon isn't only witnessed during the day. Night temperatures can increase by as much as 7 degrees. In fact, the 22nd day of July 2011 saw sunlight-absorbing rooftops of buildings in New York touching a staggering 170 degrees Fahrenheit. By contrast, a white roofing material was 42 degrees cooler. The material in question was a low-cost one being tested as part of the mayor's efforts to reduce New York City's carbon emissions by 30 percent by the year 2030.
Scientist Cynthia Rosenzweig has said that the city is witnessing about 14 days every summer above 90 degrees. With the current trend of global warming, New York could experience 30 days or more of increased temperatures.
The experiment has proved that proper planning is the key to helping keep a check on carbon emissions. If cities around the world incorporate such white roofing materials for their buildings, we could very likely bring temperatures down to a natural level and decrease chances of death by heatstroke, conserve energy and reduce carbon emissions.
Via: NASA