The new solar sculpture at TIA captivates visitors with its ever changing colors and patterns
Considered to be the Centennial Legacy Project by the Arizona Historical Advisory Commission, the new solar sculpture at Tucson International Airport links the history of the region with its technological future. Christened as the 'Spirit of Southern Arizona,' the sculpture rises 18 feet high and features a photovoltic solar panel collector that powers numerous LEDs that constantly change the display of lights and their patterns.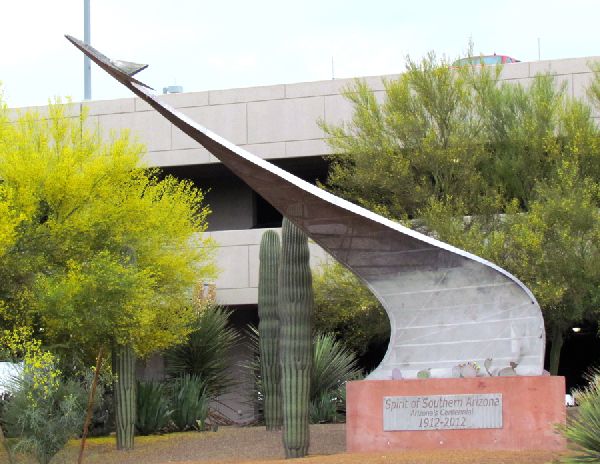 The sculpture is encircled by six circular medallions, which depict the past and the present of Tucson through images. One such image shows Tucson's first flight in 1910; another one shows a woman harvesting saguaro fruit. These images of the past are contrasted with images of a futuristic airplane that climbs into Arizona, leaving a sparkling contrail behind and is en route toward the next 100 years progression.
The importance of solar energy to the future is at the helm of the underlying theme of the sculpture. It is well demonstrated through use of LEDs, which harness the how humans sense light i.e. it will sense the presence of people around and then adjust its power consumption accordingly. When people are not around, the energy consumption goes down by four times. Surprisingly, the sculpture lesser power than a single 40W light bulb and yet it has the capacity to give the illumination of 50 bulbs lit together.
Fairfield Enterprises LLC was appointed for creating this marvel and they did justice to the idea of portraying the significant history of Tucson and at the same time standing as a proud iconic solar sculpture welcoming the residents and visitors of the place revealing to them Tucson, the nation's premier solar powered city.
Via: Flytucsonairport