Copenhagen's main hospital, Rigshospatalet is up for re designing. A team of architects at 3XN recently won a competition for designing its green campus, which is due for completion in 2017. The 76,000 m2 extension will be remodelled with efficient and time saving logistics, and more green spaces will be added to create an environment of wellbeing for its patients. The daily operations of its staff will become more effective as the staff will have to walk through shorter distances between departments and wards.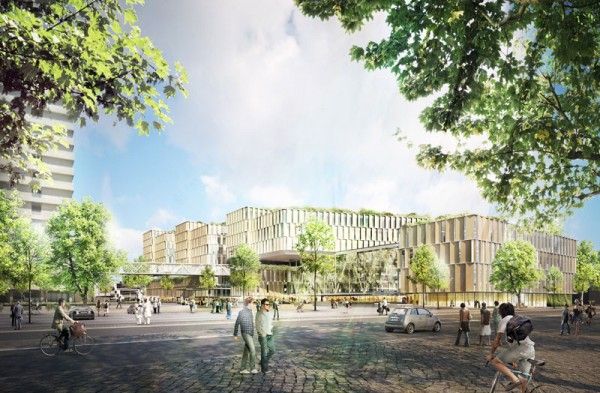 Five atriums have been created owing to the v-structure; they serve to be comfortable lounge areas and points of orientation, giving to easy and logical directions throughout the hospital. The design of the building allows plenty of light to stream through and provides open views of the parks outside and the city beyond.
Sustainable building attributes like gardens and green walls on the inside and the outside have been in focus throughout the building. This will presumably provide a healing environment for the patients and keep the staff refreshed throughout the day, while minimizing any negative impact whatsoever.
The architects of the project wanted to incorporate an urban feel to the structure and for this they scaled it down from the northwest to the southwest. Only four floors face the street and nine face the existing building of the hospital. This makes the building blend with the houses in the street. The facade is draped with glass and the light natural stone that allows light penetration, while partially shading the building.
Via: Evolo