New cattle produced: It burps out less, to help cut global warming!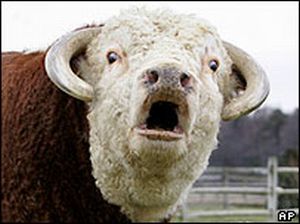 Do you know, when a cow burps after eating, it emits methane gas – a gas that contributes hugely to global warming? So, to save the world from greenhouse emissions by more than half a million tonnes over the next 25 years, scientists have successfully discovered a way to breed more efficient beef cattle – i.e. a cattle that eat significantly less food, and hence belch out less of the gas.
A scientist from NSW's Department of Primary Industries explained that when a cow munches a meal, much of the food is converted into methane gas by fermentation, and 10 per cent of the energy eaten is burped out.
They have also found a protein, carried by the cattle. It can be used as a genetic flag to signal this special talent. The whole research took a decade to come up with these lab-based 'less burping' cattle.
Via: The Sydney Morning Herald