Myhab – A smart, recyclable way to shack up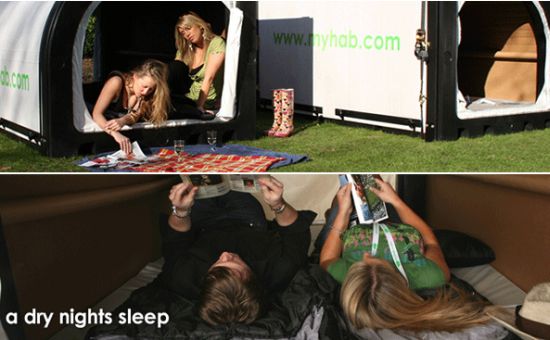 Shacking up this summer as you trot off to all the music festivals gets nice and easy with the MyHab. This little sleeping pod is made of weatherproof cardboard and recycled plastic. So, sleeping in one will make all the greens go gaga over your planet friendly credentials. Coming to the Myhab, it has for room for two adults and inside it, you will find a cushioned bed and a lockable box for your valuables. The entire structure will sit on a raised platform and setting the Myhab is an absolute hoot. All you need to do is call the blokes at Myhab and specify the location where you'd want your Myhab to sit. They will do the needful and have your Myhab up in no time. You can also pimp up your very own Myhab by specifying your needs when you order. All this for a reasonable £240 make the Myhab a smart, planet friendly sleeping pod that is an absolute must-have for summer fest folks this summer.
Via: coolhunter
Enjoyed this post? Please share the love...