MVRDV prize-winning design for China Comic and Animation Museum is green to the core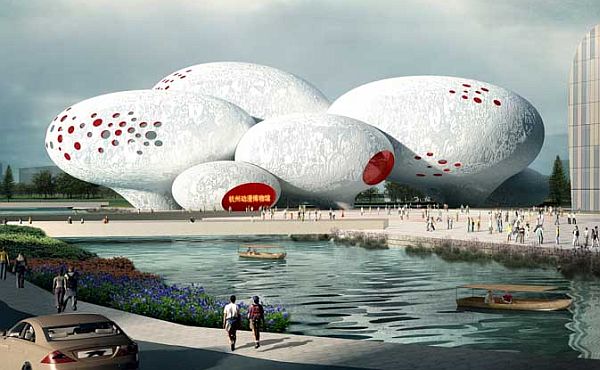 Hangzhou urban planning bureau has announced Dutch firm MVRDV the winner of the international design competition for the China Comic and Animation Museum (CCAM) in Hangzhou, China. The construction of the museum is supposed to start in 2012. MVRDV's design represents eight balloon shaped spaces that acquire almost 100,000 square feet of museum space.
A series of parks, a plaza and an expo centre are also a part of this magnificent project which has a whopping budget of 92 million Euro. The plan is to give the building an identity that helps people in relating the cartoons, comics and animations with it. In other words, the purpose is to present the more recent art and entertainment forms like comics and animation on a common platform.
The space designs haven't been planned randomly. Rather the design is well tested to appeal all age groups, thus leading to a larger audience. The space has been divided smartly in eight balloons that are interconnected. The interconnected spaces allow a larger view of other balloon and don't restrict the view to the are you are present in. These balloons also have few interesting sections, like one holds lobby, theatres, library etc. One balloon will give the visitors a complete interactive experience. It'll have lots of techniques like stop motion, blue screen, drawing, creating emotions etc which are sure to attract visitors. However a gigantic 3D zoetrope might turn out to be the centre of attraction.
It's not only the design of the museum that's worth mentioning. Everything including the routing has been planned to perfection. The route supports short time visitors too who can pay visit to cinema, or terrace restaurant or any exhibition. The facade of the museum is equally attractive that represents a cartoon pointing towards a Chinese vase.
The museum would be totally energy efficient. Ground storage, natural ventilation and adiabatic cooling has been used quite impressively, thus making it energy efficient. It's aero-dynamic design ensures even wind pressure which lowers the need of too much air-conditioning. The construction of bubbles is such that it helps supports different conditions, hence making it more energy efficient.
Source: e-architect