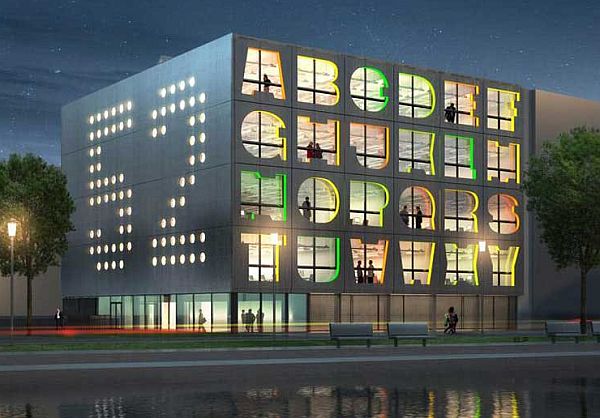 A creative and fitting office space will be the most demanding factor for all small and medium size creative agencies. MVRDV, a Netherlands-based architecture and urban design firm, has a solution for it with a building made up of English alphabets. The alphabet building at Amsterdam might be the latest addition to MVRDV's creative design logbook. The sale of office spaces has already started and inspite of the two missing alphabets, the building has nothing less to offer.
Creativity blends with quality
The alphabet building provides astonishing interior and exterior features that are assured to satisfy all the needs of the customers. Primarily aimed at designers, architects and other style studios, the portion A to F has already been booked by Design Studio Thonik. Situated on a relatively small site of 30 x 30 meters, the building design features a series of spacious loft-like units and a highly graphic exterior aesthetic. The building consists of a solid office block on a stylish transparent parking area. The alphabetic areas measuring 128 metres can be sold either individually or as a series of letters. On the east façade of the alphabet building, a series of dotted windows spell out the number "52" relating to the address. The original design had the letter "Q" in it, but was later replaced by "Z". Thus all letters except "I" and "Q" have been used in the building and they represent the address extension of the occupied businesses.
Spacious and adaptive interiors
An architectural structure is rated only by measuring its interior quality and facility. The alphabetic building is intended to meet the demands of companies at large. The rough and pure finishes are adaptive and act as a blank canvas to be drawn upon. Large exposed spaces with high ceilings are made with neutral materials such as concrete, aluminium and steel.
Source: DesignBoom