Mr. Peanut travels across the country in his new peanut-shaped, eco-friendly Nutmobile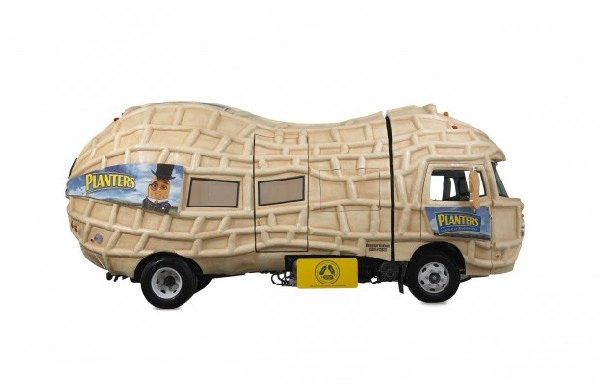 Peanut company Planters recently unveiled its latest Nutmobile in Los Angeles. Mr. Peanut has a new energy-efficient peanut-shaped truck to tour the country teaching Americans to follow the way of the virtuous peanut. The ambition of the Planters Nutmobile is to show people how alternative energy can be used, even in vehicles.

The new Nutmobile is based on a 2011 Isuzu NPR box truck. The 11,000-pound vehicle's fibreglass peanut body, crafted out of non-toxic epoxy, organic compounds and vinyl is held in place with an underlying steel frame. The cab accommodates three people, with additional room for Mr. Peanut to pop out and wave at the crowd.
The Nutmobile, the peanut-shaped vehicle that is powered by turbo-diesel of 5.2-liter capacity that can run on biodiesel made out of peanut oil. It also features solar panels and a wind turbine on the roof for interior LED lights and radio. The wooden flooring inside is also made out of recycled wood from an 1840s barn.
In addition to driving around the country, the Nutmobile will be appearing at all of the Planters Groves locations, which involves the construction of peanut-shaped recreational spaces on disused urban property, from March through the end of summer.
The picture below describes the Nutmobile concept in detail: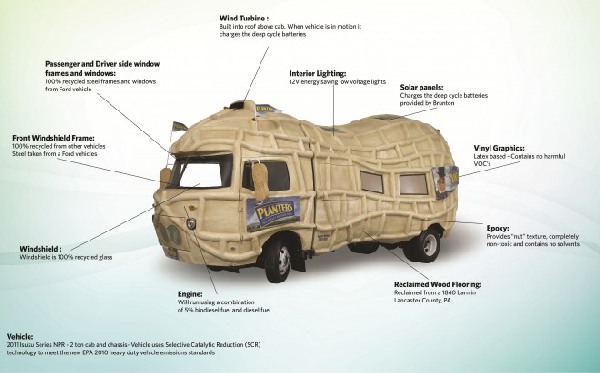 Image credit : [1], [2]
Via: Wired