Motorola does it's bit to keep Ugandans connected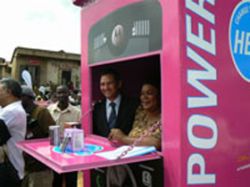 Though mobile phones are slowly penetrating rural Africa, charging them regularly remains a huge issue as the African rural folk have almost no access to stable power distribution. In a classic case of big corporates getting down to help the rural folk, cellphone giant Motorola has sponsored Solar Powered Kiosks to charge phones of the Ugandans in rural areas. Running on a 55 watt inverted solar panel, these kiosks can simultaneously charge twenty cellphones. Motorola has gone a step further and has integrated the kiosk into a little shop that will sell Motorola mobile phones and accessories.
These shops will also serve to provide women entrepreneurs with a source of livelihood. Sound business sense Motorola! Though critics may argue that Motorola is piggybacking on the Solar-Powered Kiosks to promote it's phones and advertise them, the fact that it is at least taking initiatives to come up with innovative solutions deserves to be lauded. Meanwhile, Motorola is sponsoring a wind powered mobile base stations in Namibia.
Via: TreeHugger