Modular garden pockets provide undulating glimpses of greenery
Green spaces, whether large or small, are being set up in urban concretized areas to counter not just the dull aesthetics but to provide small pockets of clean and unpolluted areas. Since urban areas are usually congested with little room for establishing larger green spaces like parks, designers have taken it upon themselves to create tiny pockets of nature. Along these lines, asensio_mah and Harvard GSD have conceived of a project that was installed at this year's Canada Blooms Garden in Toronto.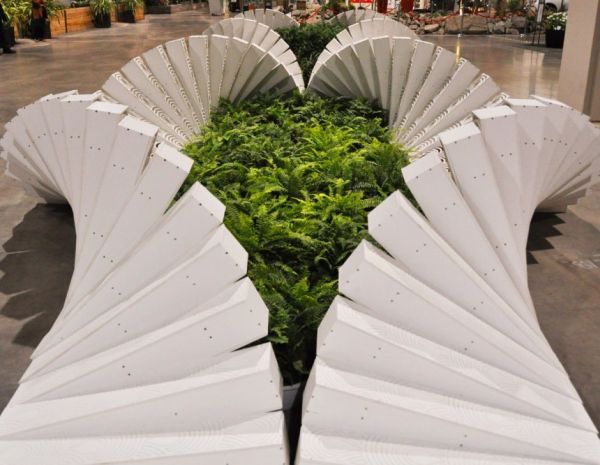 The interesting concept involves an undulating series of planters that unwraps and twists itself to reveal garden pockets. The planters themselves are cleverly designed to provide passersby glimpses of greenery while at the same time delivering shade to the plants at intervals. The planters can be manipulated to create various angles as per a user's preference. Not only does this benefit certain species of plants and flowers that require more or less sunshine, but it also helps break up the monotony.
The modular assembly approach makes use of 190 boxes that can be repurposed as individual planters. The project is especially suited for parks and other similar green spaces that cannot afford to allocate too much space for greenery.
The Canada Garden Blooms event may have been held for just a week but the clever design of the project allowed it to live beyond that time frame. This feature can be looked upon as the concept's ability to live on owing to its modular and repurposable design.
The need for green spaces, no matter how small, has risen in importance over the past few years owing to the increased concretization of our environment. This has had a negative impact on small life forms that depend on plants and flowers in order to thrive. While efforts such as the modular garden pockets may not attract such a wide variety of animal species, it still plays its part in the cycle of nature.
Via: Contemporist