Microsoft builds Silicon Valley's largest solar electric system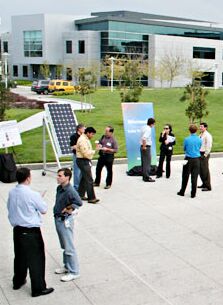 Microsoft's Silicon Valley commemorated Earth Day last Friday ion its campus in Mountain View by launching its new solar electric system. It is designed to save energy costs.
At its peak capacity, the system generates about 480 kW! This is pretty huge! It is the largest of its kind in Silicon Valley. The system has 2,288 solar panels and is installed on four building rooftops. Microsoft has made such effort for the first time.
John Matheny, Microsoft's Silicon Valley Site Leader said,

Microsoft is committed to being a responsible environmental citizen locally and globally… Implementing the latest practices and technologies to protect the environment is good for the community and good for our business.
Via: NEWS.com