Microscopic sieves to help coal-fired power stations go eco friendly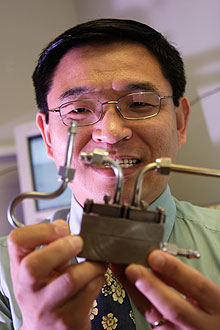 Now microscopic sieves are to help the planet from global warming! Before the environmentally destructive greenhouse gases escape coal-fired power stations and refineries, microscopic sieves are to trap them and relieve the environment from it.
The existing power stations and petrochemical plants are to be fitted with new gas separation technology to produce a clean energy carrier, hydrogen. It would also capture carbon dioxide, a greenhouse gas that participates hugely in global warming.
To build and test this eco friendly technology, Brisbane and German scientists have teamed up in a $4.2 million project. Under its Smart State National and International Research Alliances program, the Queensland Government would be contributing $1.05 million to the project.
Via: Physorg