The Micropolitan Community Space aims to offer sustainable living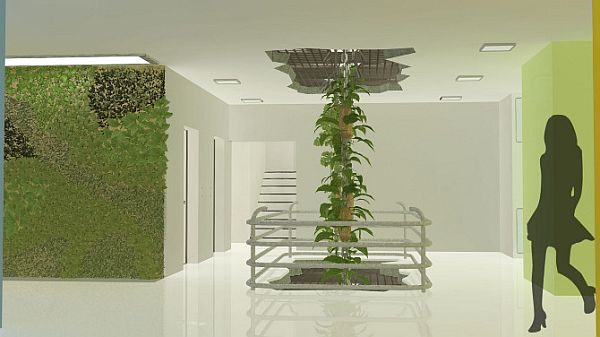 The Micropolitan Community Space can at best be described as a post apocalyptic visualization of community living where everything comes together, forming 'small but complete' units of sustainable living or as its creators like to call it, "Micropolitan Community Space". These apartments make good use of long empty city buildings to offer an affordable and sustainable model of living together. The ground floor of the apartment building is made of a communal grocery cum shopping area open to general public i.e. even to those living outside the building.
The second floor comprises of a nursery school and play area for its younger residents and a collective laundrette open only for use by the building inhabitants. From the third floor onwards is the living space consisting of individual apartments with a street like linking structure running all through the building connecting together everyone, thus seeking to forge strong community ties.
The habitation modules have been modified to a great extent to make the best possible use of natural light, solar power and passive natural ventilation for temperature moderation. Community space in the building is located in its southern pocket, giving rise to a naturally well lit area with an additional balcony that connects the inside with the outside.
The building also has provisions to grow its own edible produce with a number of hydroponic systems installed at various locations within. Low energy LED panels surround the columns of the building, offering ambient lighting at night. There is a natural system of cross and stack ventilation in space.
Stack ventilation is available next to lift panels which run vertically through all habitable levels and thus, it is very easy to grow plants here using the low energy fluorescent lighting. In a nutshell, the building is an amalgamation of a shopping complex, nursery, laundry, apartments, community area and agricultural space. All basic living essentials under a single roof is what the Micropolitan Community Space aims to be.
Via: CargoCollective