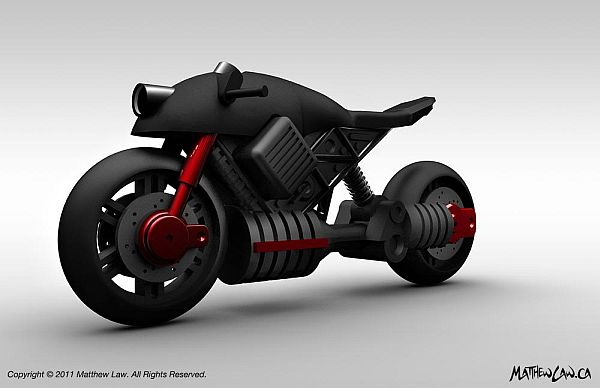 As inflation and oil prices seem to hit new highs everyday on Wall Street and other major stock markets, Matthew Law seems to have envisioned a perfect future. While looking for electric versions which might be the alternative, he inspires and transcripts his design that gives a more futuristic and retro look. What looked like a future ride in one of the old marvel comic strips, has now been conceptualized and is in the making.
This sleek and futuristic design draws its inspiration from current street fighters, while the linear elements were inspired from the cafe racers and retro motorcycles. The compact design will suit the ergonomics of the bike which enables battery storage at the side of the bikes compartment which is right underneath a cylindrical container which holds a high-power turbine.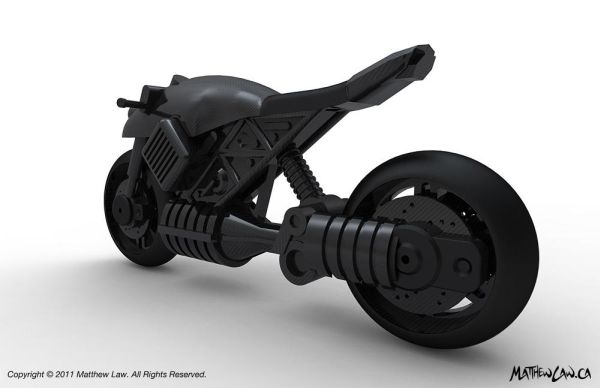 The design specs hit new visual delight as the ribs lit up at high speeds. The current model being tinted in black and the ribs in red, it will be too early to comment on the colors offered.
The specs of this bike are still scant as this design has just come into existence. It may take a while for us to see this metaphor, which is conceptualized as a motorcycle concept for the year 2020. But I bet, the wait might delight us all.
All Images © Matthew Law
Check out more images at Matthew Law
Via: PS-Garage