M2E Power Commercializes Efficient Battery Technology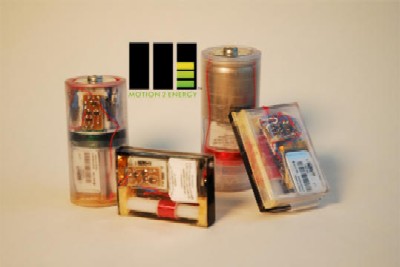 M2E Power, the clean technology startup has raised enough capital to commercialize an innovative battery technology. This technology will convert motion into electrical energy.
New investment to the tune of $8m by OVP Venture Partners, @Ventures, and Highway 12 Ventures will help M2E expand their R&D facilities and launch the first of their products into the market.
M2E's objective is to apply the Faraday Principle to 21st century applications. The Faraday Principle states that:
putting a conductor near a magnetic field will produce voltage
M2E plans to begin by creating a D-size battery for military use. They will follow this up by designing batteries for various consumer electronics like a cell phone or digital music player, before they move on to batteries that will power renewable energy sources like wave power and wind turbines.
So what's the science:
In lab studies, M2E Power has observed that around two hours of motion can provide enough power for 30- 60 minutes of talk time on a cell phone. Indeed treadmill tests at Boise State University have demonstrated how human motion can produce electricity capable of powering a light.
M2E has developed the ability to generate electricity to power small devices by manipulating the electromagnetic field that is produced when a coil moves near a magnet. The prototypes are made of a magnet which is attached to a spring, wire coils, circuitry, and a traditional battery to store electricity.
M1E notes that as the battery will be self-charging, it will also contain less traditional storage material and heavy metals. M2E believe that the technology is also easily scalable in that it can be used for hybrid batteries for cars as well as other renewable energy applications.
Via: CNET