Lunartic belt-driven hubless bicycle- an innovative addition to hubless bicycle concept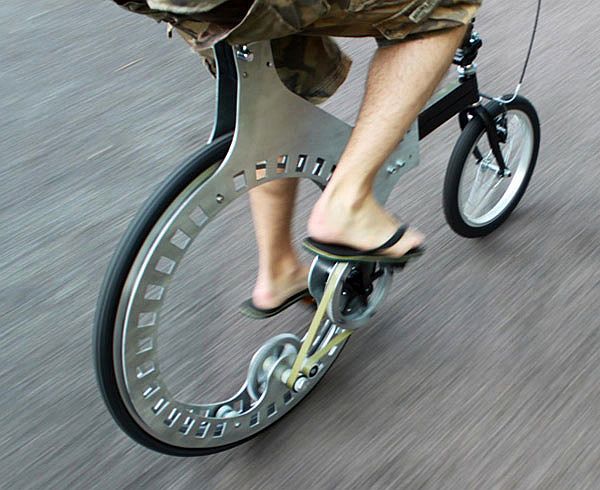 The concept of going hubless with wheels is not something that is unheard of. This concept has been in existence for more than a decade, yet it has not received widespread popularity for several factors. Yet, the Lunartic Belt-driven Hubless bicycles are expected to overcome the difficulties of the earlier hubless models. The new bike uses some of the latest technologies and has been made compact for ease of users. Not only that but also the trendy look of the bicycle makes it rightly suited for any style-conscious youth.
The Lunartic bike, which is making news recently and is considered to be the bicycle of the future, has been designed by Luke Douglasland of Loughborough Design School. The belt-driving feature of the bike is not the only striking feature it has. Hubless rear wheels devoid of any spokes also deserve mention. As per the reports, Luke Douglasland aimed to create a compact bicycle design which will not only provide high performance but also will ensure the comfort of the user. The large wheels of the bicycle suited the purpose rightly. With small front wheels and large back wheels, this bicycle offers more stability as well as better maneuvering facility than any of its kind.
Several expectations and anticipations are circulating the new hubless bike. If things get materialized as expected, this will surely bring a revolution in the concept of bicycling. The differently sized hubless wheels of the bike and its chain less functionality have already started garnering popularity among the critics as well as common men. Yet, the master mind behind the bicycle, Luke Douglasland, who has designed this bicycle as his project paper for final year admitted that more works are required on it to make it completely functional. Therefore, it may take a few more months or even a year to make this innovative bicycle sellable.
The bicycle even though offers several changes than the traditional models, it uses the same geometry of the conventional models. Thus, sitting posture or riding the bicycle for hours may not be tough.
Via: Technabob