Low-cost satellite-based weather data system to make it accessible for developing countries!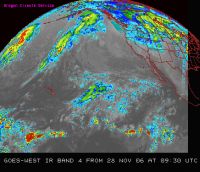 A new easily affordable satellite-based information system — GEONETCast system — is being developed and to be unveiled today at an international conference in Bonn, Germany.
It can spread environmental and health data across the world quickly – with setting up cost of just $1,500 – to help developing countries anticipate catastrophes such as drought, storms and floods.
The GEONETCast system will surely allow, making it affordable, governments in poorer nations to tap information from the sophisticated satellites and weather stations, otherwise run largely by the world's richer industrial countries! This is what the organizers hope.
According to officials, the information system makes the information available at low cost, using satellite transmission. Using a satellite dish and readily available software, it can be pulled down and read, still keeping the startup costs amazingly minimal.
The affordable, satellite-based information system is expected to begin operating next year! – a great step forward towards monitoring environment of the developing countries.