London Tower farm: A new way to live in a self-sufficient way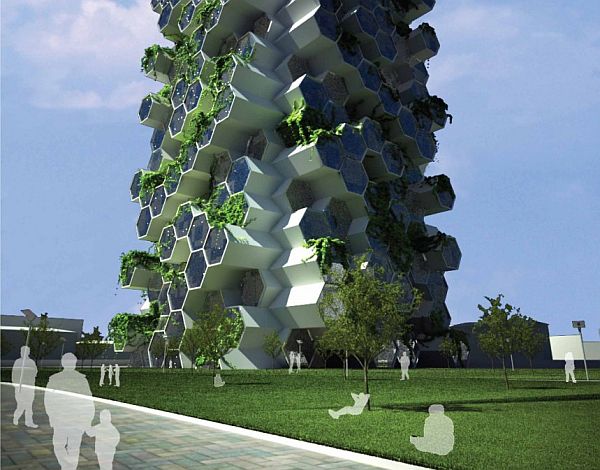 The increasing pace of urbanization and a growing need of sustainable living across the world have tickled minds of many a creative people across the world to think about innovative ways of living. Working on the same lines, the renowned Mexican firm, Xome Arquitectos, has proposed to develop a tower farm at the banks of river Thames and London Bridge.
The vertical farm tower is designed as an intricate honeycomb tower and is aimed as a part residential building and part mini ecosystem. The building is fully self-sufficient and contains its own rainwater harvesting mechanism, power generation system and other facilities along with a vertical farmhouse in the middle of the building, which will grow food for the residents. The inspiration to make a self-sufficient, vertical place of sustainable living to Xoma, came from the fact that by 2050, 70 percent of the world's population will be living in cities and urban environs, necessitating the need of self-sufficient and sustainable living options.
The firm has weaved in the element of vertical farming in order to meet the ever increasing space requirements in urban areas and feed millions of people living in urban environments. Besides, the residents of the building will be able to participate in other cultural and lifestyle related activities like shopping, working, living and leading a life full of entertainment. The architect firm has propagated the idea through the LOFT AWR 2011 design competition. The building will contain apartments around the entire perimeter and will have growing levels in the center.
The facade of the tower is inspired by the atomic composition of the element carbon with number six as the building block, along the various levels. The basic shape of the building is hexagonal, which is repeated until the zenith of the building and serves as windows of the apartments situated on the perimeter of the structure.
Various renewable energy generation systems installed on the roof will generate power for the entire building while rainwater collected at the bottom of the building will be used for diverse purposes like showers, toilets, and hydroponics. Food will be grown at the center of the tower. The idea is to make the vertical farm accessible to all its residents where they can come and contribute in growing their own fruits and vegetables and lead a self-sufficient life in their own mini ecosystem comfortably.
Via: Plataform