Bacteria are always driven out of our homes in fear of the health risks they may cause. But electronics company Philips has introduced an inventive method that will tempt you to grow bacteria inside your house. Millions of bacteria could be harnessed to light up your rooms and walkways with a warm and cosy green glow. Philips has invented the way to light up your households with some lamps, powered by green light emitting bioluminescent bacteria that feed on methane gas from waste.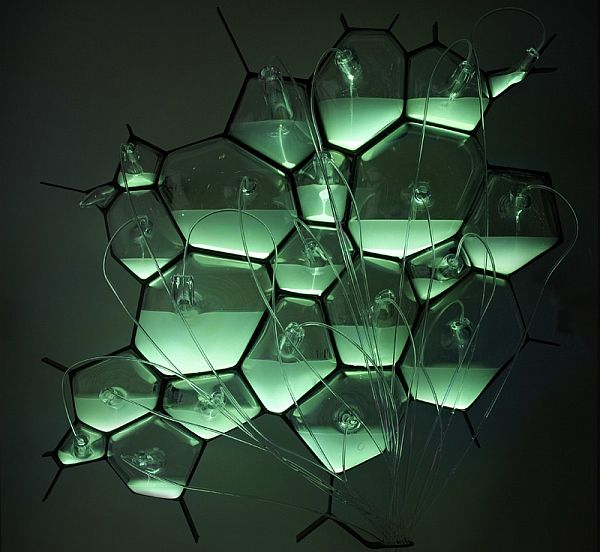 Phillips has worked out the bacteria powered lamps called bio-light as part of its efforts to find more natural light sources. The technology reveals that millions of micro-organisms could be brought together in glass jars to provide light for the room from recycled household waste. As the bacteria feed on the waste, they emit warm green light, which is enough to illuminate our living rooms, walkways and corridors. Indeed, the technology can be made a highly eco-friendly endeavor as it will save power and manage waste properly.
The concept model of the bacteria lamp is made by Philips using glass jars filled with bioluminescent bacteria. They emit green glow as the waste is pumped into lightning unit through a household waste digester. Jim Haseloff, a plant biologist at the Cambridge University is the brain behind the bacteria driven lights. According to Mr. Haseloff, it is an important development in the world's voracious search for sustainable and natural light sources.
Mr. Haseloff tells to CNN that the technology becomes great as two things are brought together which are not normally associated – bacteria and waste. So there is less chance that more people will accept the method as they may not appreciate bacterial cultures in their homes. However, the method opens way for a new technology that helps produce sustainable light in simple steps, says Haseloff. Though households are hesitant to grow millions of bacteria inside their houses for lightning, the method can at least be applied to light up highway sides, walkways and other open areas.
"When you move out of the normal area – illuminating walkways and things like that – where things could essentially be growing and delivering light for free, that's where you're going to have applications," he adds. Indeed, the bacteria powered light technology is to change the way we hoped the green technology will evolve out.
The efforts to find out more green ways to produce light get a new thrust with the discovery. Scientists have been working out lots of methods and technologies to evolve a system to light up homes and offices with natural sources. Thanks to the many new inventions in green technology, electricity can be saved and waste can be well managed.
Via: DailyMail