The beauty of physics is that it is all round us. Every action that we perform, movement of every object around us and all the aspects of human interaction with the physical world around them have in the 'Physics', which is otherwise is a complicated and equation filled subject in the classrooms. But one look at this interactive swing installed in Mainz will surely give kids who despise the subject a new found love for it.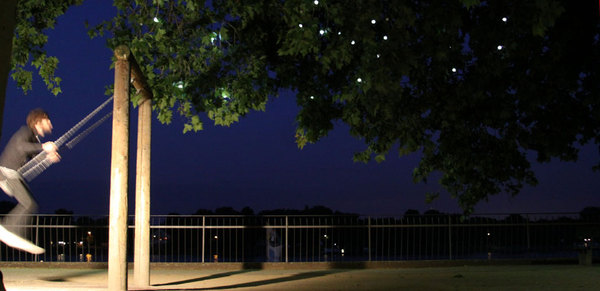 Unlike the conventional method of teaching how kinetic and potential energy values vary at different points in the motion of a swing, this one uses 130 LED lights hooked on to a couple of trees that rest on the bank of Rhine to give you a demo of the theoretical concept in an illuminating fashion. As a swing moves, the potential energy (PE) and kinetic energy (KE) values change constantly with PE being highest at the top of the swing and KE being maximum at the center.
Designed by Dennis Praschak, the installation is a part of the city celebrating science and the swing demonstrates how various principles of physics govern everything that surrounds us. We assume that different LED lights among the 130 installed illuminate in various forms to indicate the change in kinetic and potential energy values. This is done by using motion sensors and obviously the swing powers the LED lights on. Just goes to show how much energy is waiting to be tapped into if we can hook all those parks across the globe with similar technology.
Via: Behance