LED-FLEX: An Energy-efficient Alternative to Neon Lighting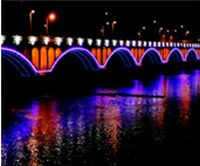 This
is an amazing energy-efficient LED substitute for neon lighting. Mule
Lighting, after two years of research and development has developed a
product that looks like traditional neon but is more versatile.
To make LED-FLEX, light emitting diode (LED) technology has been
incorporated into a flexible and durable package. And it has the
appearance and brightness of traditional neon! Thanks to Mule Lighting.
Completely sealed and impervious to shock and vibration, the uniform
and super-bright light output is achieved through a proprietary optical
maximization technique.
LED-FLEX is perfect for wet locations and can withstand extreme
temperatures. The product uses very little energy, requires little
maintenance, and is available in a variety of bright colors.
Via: Trans-studio