Leaf Trays from Recycled Aluminum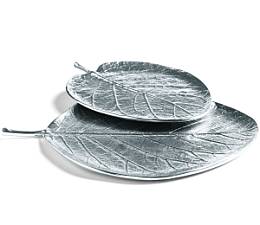 Post consumes products; especially made from metals are a concern for conservationists and environmentalists. On these lines of concern, Vivaterra transformed aluminum into these beautiful trays.
These recycled aluminium trays stay colder for a longer time, due to polished aluminum's ability to retain its temperature. And it's just the perfect one for serving something chill to your guests. The leaf motif design of the tray adds a touch of pastoral charm. The small Leaf Tray is priced at $32, and the medium one at $49.
Via: Vivaterra