Lake Ontario to get 140 giant wind turbines worth $1 billion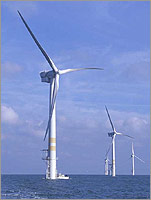 North America may soon witness 140 massive wind turbines down the Lake Ontario. Trillium Power Energy Corp., a Toronto company plans this $1 billion alternative energy firm and is awaiting government approvals to make the move.
Once approved, the 710-megawatt project will be able to provide enough electricity to power more than 200,000 homes! The project is named Trillium Power Wind 1.
Each turbine would be of five megawatts capacity and will be placed in 21 metres deep waters, about 15 kilometres offshore from Prince Edward County, situated just south of Belleville.
John Kourtoff, president and chief executive officer of Trillium said,

If you look out on the horizon, you'll barely see anything on the clearest day… We already have the financial backers.
Via: The Star