KiBiSi's sTREEt lighting tree concept relies on renewable solar energy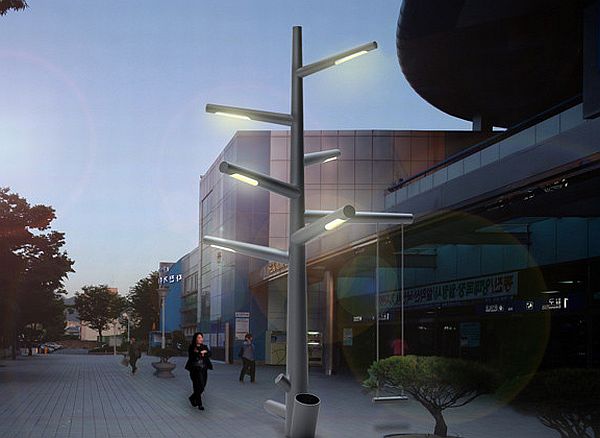 Urbanization has messed up the infrastructure of our cities with mismatched bus benches, unplanned and haphazardly positioned utility poles and dreadful streetlamps. To face this problem, innovative street furniture called 'sTREEt' has been designed by Danish firm KiBiSi which will serve as a centre of attraction at Gwangju Design Biennale, an international contemporary art festival to be held in Korea.
The motive behind its design was to transform Gwangju's cityscape into an organic block. These modern street lights are run by solar power and also offer seating arrangements like swings for public utility. These sTREEt trees are modifiable and adjustable in nature and can easily fit to the specific requirements of the city. Like real trees, their sizes vary from a sapling to a fully grown tree and could be found in parks as well as public places. They also generate energy with solar panels that feeds these trees at night making them one of the best public utility objects.
These trees help in providing shade during day time and light at night, cost same as streetlamps, and add value and magnificence to the city. They are also capable of accommodating telephone line, power line, street lights, spot lights and likewise. Each neighborhood can use a different sTREEt shape, style and color thus adding beauty in an eco friendly manner to the infrastructure of the city.
Via: CoDesign