If the China National Sports Group and DUO have their way, then the Jingzhou Sports Center will feature spiral-like rooftops linked together by a roof canopy. The intricate design is part of the concept envisioned by the duo which will be the site for sporting events, concerts, fairs and even shopping and exercise.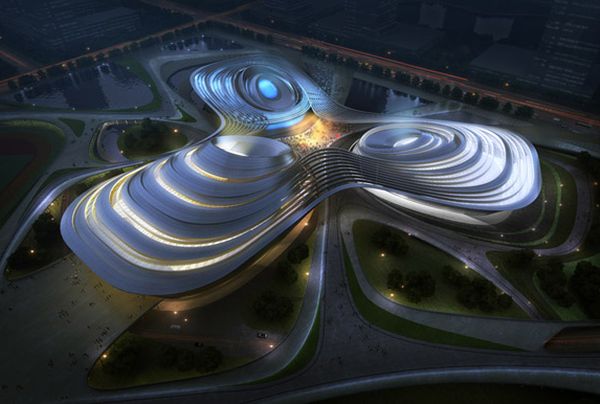 Unlike the plans of many regions that tend to separate venues for certain purposes, the Jingzhou Sports Center seeks to merge everything into one site. The center will sit on an area of 550 by 470 meters, and will serve as a hub of activity. And, unlike many sports centers that cater only to sports, this concept envisions bringing together various activities including recreational ones.
The tri-fold arrangement will house an aquatic facility, a gymnasium and a training center above which a roof canopy wraps the three structures into one. No mention has been made of the use of renewable energy and we're assuming that the center will probably run on conventional power. However, we're hoping that the designers will provide us with further details and will at least make use of solar energy.
From afar, the center sits on the horizon like an alien spacecraft with its smooth flowing lines and unconventional design. The interior is no different though the green spaces make you realize that you are actually on earth. Trees dot the area which is broken up by windings streets.
It is at night that the center is totally transformed, however; the spiral ceiling enables strobe lights to bounce off in a very club scene-like manner, while the large space is filled with concert goers moving to the rhythm of the music.
DUO and China National Sports Group seem to have outdone themselves with the Jingzhou Sports Center and we, for one, would love to see their concepts brought to life.
Via: Designboom