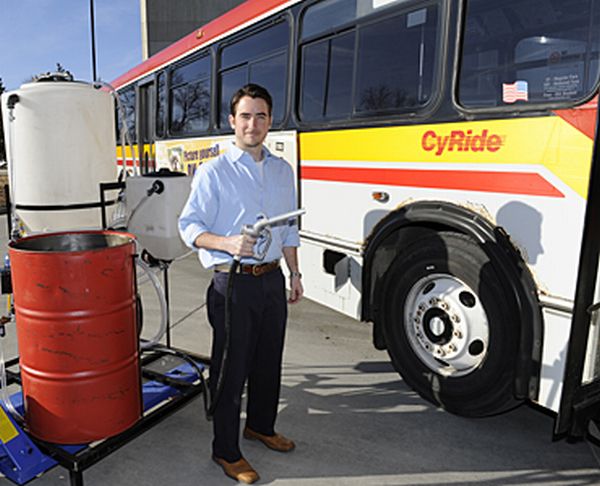 Biofuel is fast replacing the use of conventional gasoline even in the case of high-end automobiles that are currently taking center-stage in shows like the Geneva Motor Show. Therefore it only makes sense that students who are close to cutting edge green technology implement it on their own campus to help create cleaner roads. And that is precisely what the students of Iowa State University have accomplished with the CyRide Bus. Turning waste cooking oil into Biofuel for this custom-made bus, the students have paved the green path for others in the community to follow.

David Correll, a Ph.D. student in ISU's College of Business, co-founder and president of ISU Bio-Bus was one of those instrumental in the design of the CyRide Biofuel Bus and the continuation of the project so far. By collecting waste cooking oil from the ISU dining hall and then converting it into fuel for the altered bus, they are attempting to gradually eliminate the use of conventional fossil fuel.
This also cuts down on the carbon emissions from the bus and the project is looking forward to expand wider and collect more waste cooking oil from the locality to help further the project and give CyRide better supply of green fuel. The BioBus organization has been assisted financially by a grant from the College of Business and the project is aiming to expand beyond an educational effort and hopefully will encourage others to follow soon.
Via: news.iastate.edu