IKEA swaps wooden shipping pallets for cardboard ones to save money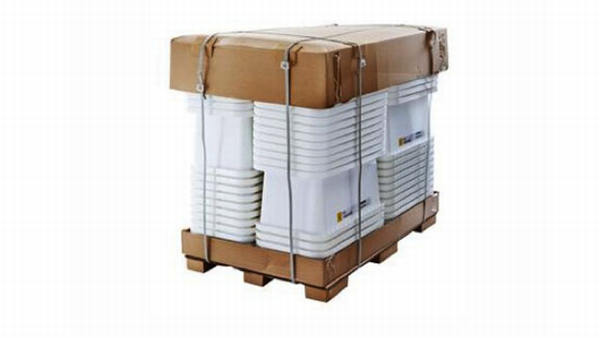 IKEA, the 26 billion Euro Swedish manufacturer of knock-down furniture, home accessories and appliances, has decided to use cardboard pallets in place of wooden pallets for shipping its products. IKEA uses about 10 million pallets a year to ship its products to 333 stores in 40 countries. Each cardboard pallet weighs only 5.5 lbs which is around 10 percent of the weight of a wooden pallet and supports a shipping weight of 1650 lbs. The reduced weight will save the company $193 million a year in transportation costs. Each cardboard pallet costs about the same as a wooden pallet, around $6. The cardboard pallet will be discarded after single use and recycled in the same manner as wrapping paper, protective cardboard corners and such packing material used with IKEA products.
IKEA has developed a new way to fold cardboard that gives it the same strength as the wooden pallet. The cardboard pallets are only 2 inches high, one-third the height of a wooden pallet. That reduces the shipping volume and associated cost. IKEA has an outstanding track record of cost containment, having consistently reduced its retail prices each year between 2001 and 2010 by 2 to 3 percent over the previous year, despite inflation and cost escalation. This has helped IKEA's growth in a period where competing companies have stagnating sales volumes.
Wooden shipping pallets are made from lumber discarded in the processing of wood into higher value products like furniture. Pallet recycling companies collect wooden shipping pallets and after cleaning and minor repairs, supply them to other product shippers. Since shipping pallets are of standard dimensions, an IKEA pallet can be reused for other products. A wooden pallet can typically be reused 5 to 8 times before it needs to be scrapped. The wood in the discarded pallet is ground into wood pulp and used for making paper. One major issue with wooden pallets is that they are subject to attack by insects and living organisms. A wooden pallet needs to be fumigated before it is shipped across national borders. The treatment chemicals cause ecological problems when the wood is recycled into paper. Plastic pallets made of HDPE (High Density Polyethylene) are beginning to be used to replace wooden pallets but are far more expensive, though they can be reused over a 100 times.
The adoption of cardboard pallets by IKEA should encourage other major shippers including the large retail chains to experiment with cardboard pallets.
Via: Mnn