IKEA recycles cardboard boxes into furniture
Everyone is making himself a part of the recycling buzz, be it for fun or advertising. Cardboard as we know can be easily recycled and hence is among good sources of eco friendly raw materials. Furniture Industry has already tapped the traits of cardboard and has introduced green furniture, which is both trendy as well as environmentally friendly. Catching on the theme of recycling as a new marketing strategy for its annual sale, IKEA, world's largest furniture retailer came up with the idea of making furniture with recycled cardboard. The furniture is created by AUGE Headquarters of Milan and is made from flatpack boxes used by IKEA for packing.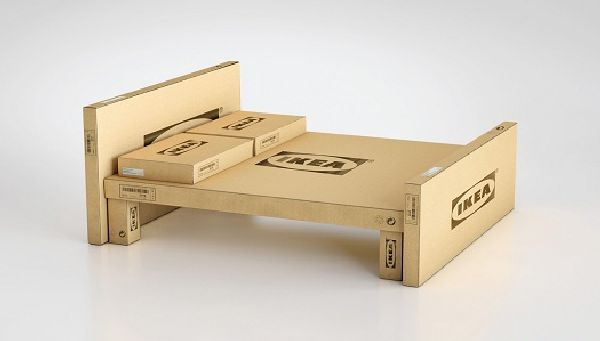 Dubbed as the 'You Can Get More' campaign, the furniture showcased includes a bed, a table lamp and a chair. The campaign emphasizes on the concept of quantity and has all the above mentioned items made exclusively from cardboard boxes. By assembling these three furniture pieces, AUGE Headquarters was able to advertise an impressive sale of 40%. This campaign has clearly sent across the message to its customers that packaging material is no waste and can be recycled for making useful things, in this case furniture.
Via: Psfk