Hyundai's Kitchen Nano Garden uses hydroponic technique to grow food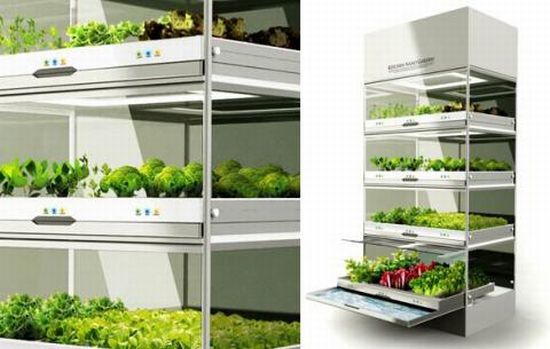 Eco Factor: Kitchen vegetable garden grows food without using harmful fertilizers and pesticides.
Gardening is pure fun. It offers some of the best advantages. Fresh air to breathe, aromatic flowers to refresh the surroundings and then of course the home-grown vegetables. Hyundai has good news for those bereft of all the gardening fun simply because they didn't have any space to practice it. Hyundai is planning to introduce its Kitchen Nano Garden. Yes, a lush green garden right in your small apartment kitchen. The Nano Garden resembling a fridge would grow food using hydroponics, controllable light, water and nutrient supplies sans fertilizers and pesticides. Natural air purifier with easy and simple gardening procedure, the Nano Garden is ideal for homes with lack of outdoor space. Nothing is out yet on the when it would hit the stores.
Via: Dvice