With space constraints, people are becoming more aware of the need to utilize areas to the maximum. This applies to large areas and small spaces. A prime example is work done on a 1,000 square foot roof in New York City by architects at HWKN as part of automaker BMW MINI's 'Creative Use of Space' project. HWKN has incorporated elements of BMW's popular MINI Cooper vehicles, turning the rooftop into a green event space with an organic hill.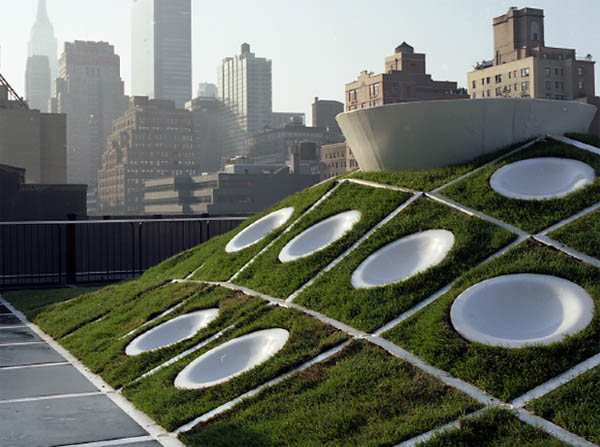 To retain a green factor, the roof makes use of natural and artificial elements. An abstract architectural grid houses the organic hill that's punctuated by white seating dimples. A performance stage located atop the hill creates an intimate ambience between entertainers and audience members. When night rolls in, the green carpet lights up using LEDs to turn the space into a club-like scene.
A speaker's platform is set against a billboard while a lighting tower casts colored light onto the space. A panorama bar overlooks the Hudson River. The entire set up is converted from a dull space into a compact entertainment zone, complete with all the facilities one would expect from a large-scale event space.
The design firm has several other creations up its sleeve, all involving contemporary elements to change the way we view space and architecture. HWKN has been involved in a number of projects besides designing architectural elements for the Creative Use of Space project. For the Volkswagen Blue Motion Campaign, HWKN came up with a breathable piece of architecture. Reminiscent of a bellows, the structure has a roof that goes up and down to cool the space inside. It uses no other technological infrastructure though the articulated façade emphasizes the breathable feature of the structure. The kiosk can glow in the dark and invites visitors to step in for a bit of exploration.
Via: Evolo