How does tongue and groove flooring technique help save resources
Constructing a building poses various challenges in terms of infrastructure planning, design and resources. Choosing the right construction material is essentially based on what is best suited for the region while taking into account the primary purpose of the building and the overall investment. Basic flooring costs, i.e. without any fancy fittings, budgets to approximately about 8 percent of the total expenditure. Owing to its high visibility and wear and tear, architects recommend proper maintenance and occasional renewal to ensure long-lasting floors.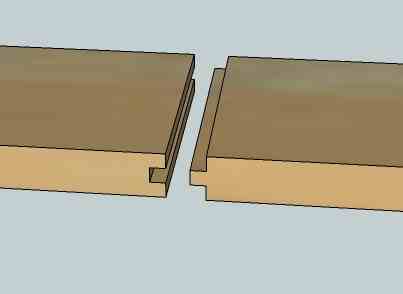 1. Wooden floor
Flooring activity involves construction of the sub-floor and then finishing it with floor coverings like tiles, wood, etc. Among all flooring materials, wood has enjoyed the status of an esthetic and elegant floor covering which easily fits into a décor that is either traditional or contemporary. Wooden floorings have also found favor among the environmentalists, and have proved to contribute to the building air quality, when compared to the VOC emitting carpet or synthetic coverings. However, good quality wood coverings come with a higher price tag. Wooden floor manufacturers continue to attempt various plank types and designs that reduce cost of installing the floor covering thereby reducing the overall flooring expenditure. An installation method that has been around for centuries together and has proved to be cost-effective till date is the floating floor method.
2. Floating floor
Floating floors are floors that do not completely depend on glue or nails to be pinned down to the sub-floor. There is a layer of padding between the sub-floor and the wooden planks, and the planks are simply fitted together with an optional application of glue. The technique used to fit them together is the tongue and groove mechanism. The system was founded way back in the 17th century and was used in construction of homes of the European aristocracy. It became popular among the middle class by the 19th century and has been in vogue since then.
3. Tongue and groove
The wooden panel, in a tongue and groove system, has a protrusion called the tongue on one edge of the slat, and a groove on the opposite edge. While seating the panels together, the groove of one panel receives the tongue of the adjacent panel and is locked to the floor. Installation is done by sliding the pieces one into another starting from one corner of the room and can be easily accomplished by home owners and DIY-ers, completing the flooring in a day or 2.
Tongue and groove panels can be made from any kind of wood – oak, maple, bamboo, etc. The slats are usually of the types – solid wood or engineered and can be glued together, nailed down or just held together in floating form. Installation varies slightly for each type of wood, and an awareness of the material helps in determining the right procedure to be followed.
4. Installation
The sub-floor should be covered with an insulation board and some damp-proof materials before laying the wooden panels. Since wooden panels expand or compress with changes in humidity level, gaps for expansion should be left around the perimeter of the floor. In fact, the relative humidity of the room should be below 75 percent to even consider laying a floating floor. Nailing panels could be counterproductive and is not usually recommended for engineered wood. The panels are allowed to slide slightly but should be held together firmly by the tongue and groove joinery itself.
Wooden panels, particularly solid wood, are designed for and can be nailed down to floors. Engineered wood owing to its layered structure is not suitable for nailing. Gluing panels is usually the standard practice, giving the system an added advantage of reducing moisture seepage to the sub-floor.
Advancement over the tongue and groove is the click system, which provides for a latching feature that does not require glue at all for installation. This is a patented system and comes with a higher price, although it promises much simpler installation. This system appears to be suitable for certain installations and not-so-simple for others.
The tongue and groove technique is used for any surfaces that require planking. Ceilings are also installed using this mechanism.
5. Maintenance
Wooden floors require a different maintenance regime. Damp mopping is OK, but oil soaps to wash the floors are simply a no-no. Wooden panels should not be installed in wet areas like bathrooms. An average life expectancy for good quality and well-maintained wooden floors is about 50 years. Floor sanding once in 10 years, removes the worn out surface and brings back the old shine.
Wooden floors score well on the life cycle cost for flooring, as a relatively higher installation cost is compensated by a low maintenance cost and higher life expectancy.
.