How to: Recycle your old incandescent light bulbs
A lot of us in order to save energy and electricity bills have replaced all the old-style incandescent light bulbs with low energy bulbs. But, it is such a shame to throw away these old bulbs in the garbage, isn't it? But, what can one do?

If you are willing to experiment and be innovative, you can actually do a lot. Here are some great ideas for you.
You can use a Bulbs Unlimited system, to transform your European standard light bulbs into various, spectacular light objects. Give wings to your creativity and make your own personal creation of light bulbs (here the bulbs are all linked together like Lego blocks). You can easily buy the Bulbs Unlimited system from Hippyshopper for Euros 39.95
If you are not keen on spending too much money, then check out the internet for making ingenious Christmas decorations, including angel, snowman, Santa Claus with your old-style bulbs. You will get some great ideas and tips from Allfreecrafts.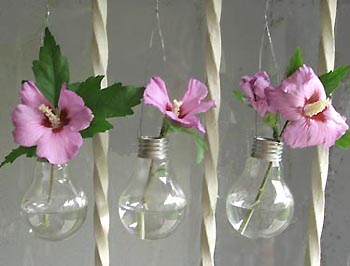 Guess what? You can even make a beautiful vase with your old bulbs! Take a look at esprit cabane and Craft Bits, and you will know how! Great isn't it, now, you don't even have to go and buy vases for the flowers.
Don't waste any more time, go ahead, recycle your old bulbs and decorate your home with your creativity.