How roof vents help reduce the energy consumed by your house
The use of roof vents are quite common now a days, and there are a large number of people who opt for them. Actually, they are not something that contributes in the beauty of the home but it also brings a lot of other benefits for the user, perhaps this is the reason why they are preferred. The best thing about the roof vent is that it is one time investment. Also, its working is quite simple and they are very easy to install. Generally people think that they are expensive; however, this is not true, and they are in the budget of almost every person. There are few things that must be kept in mind about the roof vents, and that they must be covered while, not in use. This is mainly because of the reason why they are not covered so that winds, dust, rain water, snow as well as sunlight may enter in the homes through holes of vents and may damage the expensive things of the home.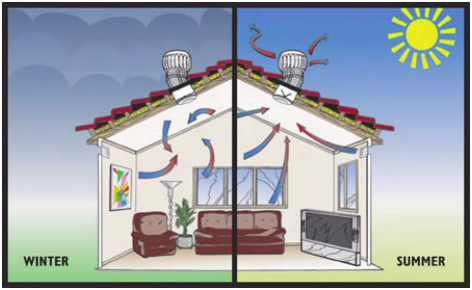 How one can reduce energy consumed by home through roof vents
· Roof vents are especially designed to help the home owner to save energy consumed by home. They can perform this task in both summers as well as in the winter season. In the summer season, they create an effect in order to have proper air circulation in the entire house. It not just protects the roof of a house, but it also helps in keeping the home cool which; in fact, reduce the overall time period for which a person has to use the air conditioner in the home. Thus, it helps in saving the energy consumed by a home.
· During the winter season, its functioning is totally opposite and during this time it act as a vent that allows heat from sunlight to enter in the home and distributes it equally among entire corners of the house and thus the overall time period for which a person has to use heat convectors get reduced up to a great extent and thus in the winter season also it helps in saving the energy consumed by a houses.
· They are not just useful for single story homes, but for double story homes as well they are highly considered. In such cases, more energy can be saved if a person prefers more than one roof vent.
Proper air ventilation is necessary
It is always necessary that the level of the air intake and exhaust is equal otherwise the temperature of the home gets increased during the summer season, and one cannot take advantage of the roof vents when this happens. In case you found any of such issue with roof vents simply call a professional. Sometime what happens is that the shape and size of a home is different and for such homes it becomes necessary that there may be a little variation in the amount of air to be exhaled and inhaled. During such a situation, a professional help is highly recommended and DIY task must be avoided.
Size of roof vents
Generally the roof vents are available in different size, and it is not always necessary that a specific size suits for a home, but generally it depends upon the size of the home. Obviously for a larger size home larger size roof vents are required so that they can perform their duty easily. Use of small size roof vents for larger homes does not offer much ventilation of air and thus it becomes usable. It is because of this reason one must consult with the experts about the size of roof vents suitable for a specific home.
Roof vents against moisture
It is not always necessary that only weather is responsible for having higher moisture inside the home, but there are a lot of home appliances like dryers, washing machines and air coolers that contribute in giving rise to moisture. In case, no proper air ventilation is there in the home then this moisture can damage a lot of things especially the roof and walls of the home. The roof vents creates a non favorable air pressure against moisture and warm air gets eliminated from the home. Thus, the need of external appliances that prevent moisture is totally eliminated which results in saving of energy.
By preferring roof vents one cannot just contribute to save the environment by decreasing the energy consumed by home but one can also highly cut down his/her electricity bills up to a great extent. Additionally one can increase the life of roof by preventing it from certain circumstances by going for roof vents.