As environmentally conscious as some of us may be, it isn't always easy to go about accumulating green points. Aside from walking to work, minimizing power consumption and responsibly disposing of waste, it can be difficult finding other ways to lighten our carbon footprint on the planet. In view of the increasing awareness of people to act more responsibly towards the environment, Superkul Inc Architect has designed a home that is eco friendly without compromising on aesthetics. The firm even won the Design Excellence Award for 2012 presented by Ontario Association of Architects in view of the work performed on +HOUSE in Canada's Ontario.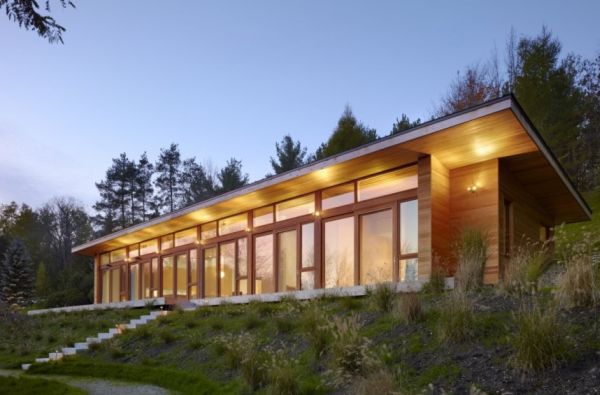 +HOUSE is a gorgeous abode with plenty of large glass windows donning the façade. Designed to comfortably house occupants all year round, the firm conducted research into environmentally sustainable materials and products, locally sourced to minimize carbon footprint. The project is hoping to win LEED Gold certification, one of the most sought-after certifications in sustainability.
+HOUSE is nestled against a natural slope and is surrounded by greenery and trees. It faces a stream-fed pond that adds to its allure, making it appear one with nature. 14-feet high glazing provides excellent views of the surroundings as well as access to a deck. Bedrooms are situated at the ends of the house. The open-living-designed home is classy in its simplicity, further heightened with the use of sustainable materials in a minimalistic design.
The walls of +HOUSE are built using inert cementitious blocks that prevent the growth of mold and fungi to keep occupants healthy. They are further coated with a clay plaster that doesn't require the use of paint. The counters and concrete floors were subjected to soy-based sealers while the curtains were fashioned from hemp and untreated silk. The house is also equipped with solar shading, a green roof, a geothermal system, and heat mirror triple glazing.
Via: Contemporist