Honeycomb Bowls Made from Recycled Metal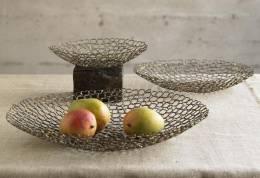 Bowls never stay out of use. And specially the ones made of metal. They are hardy and durable. But, when it is made of recycled metal, then it gets catapulted in your eco-friendly life style. The aesthetics of their making is worth praise. Their interconnecting rings make for a wonderful presentation. Even the bowls are not in use or are empty, the can be a well recognized decorative piece. As a show-piece it's just brilliant. The bowls come in a three-set, small to very large that can be nested or set out individually. Am sure you would like to grab all three of them and it's worth the buying.
Via: Vivaterra
Enjoyed this post? Please share the love...