Honda Ventures to Not Consuming, But Generating Solar Power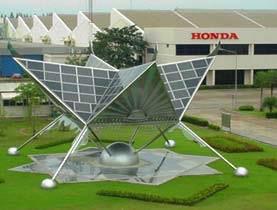 Demand for environmentally friendly energy sources are presently in the rise across the world. As usual, Honda Motor Co. seems to be planning big to make money with the right market contour. Claimed to be the first automaker to enter into solar cell business, the company plans to start mass-producing solar cells in 2007. Thank you Taro (of news.3yen) for this information.
It has announced that it would build a new factory for thin-film solar cells on the site of a car plant in Kumamoto prefecture, on the southwestern Japanese island of Kyushu. It is from the solar cells; the company aims to generate annual sales of $40 million to $70 million, once the factory's output reaches full annual capacity of 27.5 megawatts, enough to power about 8,000 households.
Via: MSN