Haus N: A cube shaped house worth living in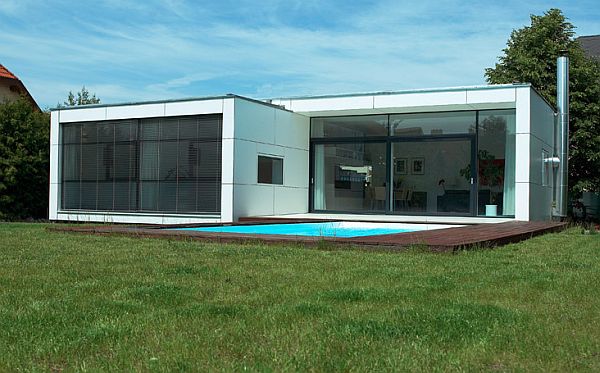 Cubes, one of the simplest and solid forms in architecture, are great solutions for making the best use of the available space. And Haus N designed by Synn Architekten from Austria is a perfect example of this. Located amidst the greenery of Koreneuburg, it is a simple yet beautiful place of dwelling for any family.
Shaped in the shape of the alphabet 'L' the single storied house looks quite modern. The house is big enough to hold a small family of two or three in it. The house has a carefully concealed doorway hidden behind, which is accessible through a series of concrete platforms. It's possible to mistake Haus N for a mobile or pool house from a distance, although it's nothing like that. Another excellent addition to the house is a humongous sized facade made of glass, which can be opened or closed at any time. This excellent feature allows the residents of the house to convert their rooms into an outdoor living space at any time, letting them enjoy their stay in the lap of nature.
The house also has a pool, which adds to the otherwise minimalistic design of Haus N. At night or even during the day, the interplay of lights and shadows on the pool create a magical show of reflections on the house. Additionally, a clever use of glass in the design lets the house borrow colors from its natural surroundings doing away with any sort of monotony.
Overall, Haus N achieves a perfect balance of green living, airy and spacious rooms and a beautiful blend of the natural surroundings. It's a great choice for anyone who enjoys sun and natural air.
Via: DesignBoom