Handmade Tote from Recycled Sails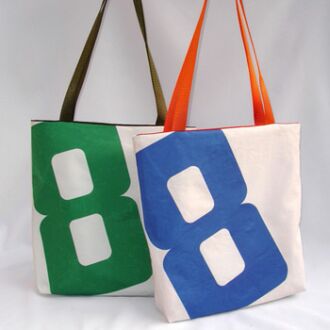 The Dacron sails rescued are brilliantly made to use. Else Wares has handmade these Reiter8 totes from not only these rescued sails, but has also fully lined them with cotton canvas. Many of these bags have a diagonal sail seam on the back.
Delicately made, the bags are given a bright, contrasting trim finish. The inside pocket is divided into 3 sections and is the perfect size for keeping all your small stuff organized and accessible. The 26′ webbing strap is made of nylon and is long enough to wear over the shoulder and short enough to tote. Made in USA, their dimensions are approx 14.5 x 14.5 with a 3″ deep box bottom. Each of these totes costs $65.00.
Via: Else Wares