Handmade terracotta tiles to help bring nature inside your living room
'Go Green' is the current trend. People today are increasingly becoming environment conscious. Conscious efforts are being made to incorporate environment in everything around us and our homes are no exceptions. Flooring is an integral part of our homes and floor tiles are basic option. Tiles today come in an array of options like ceramic, wood, stone, metal and even glass. Clay tiles is also gradually becoming a popular choice as it is eco friendly.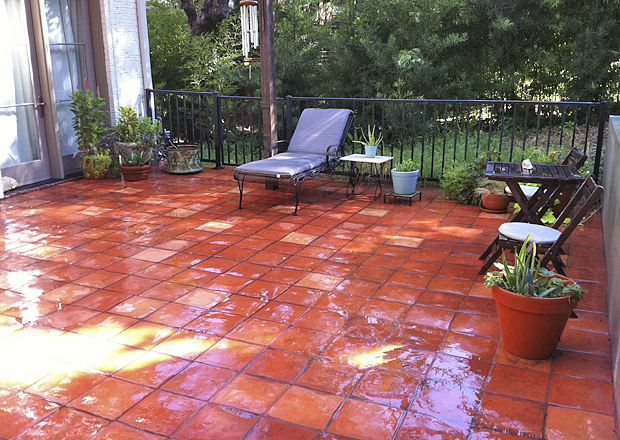 From time immemorial, clay has been a part of human abode, both exteriors and interiors. Be it for housing purpose or for the purpose of art, usage of clay is as old as the human history. Fired clay or baked clay , or popularly known as 'Terracotta' is basically a type of earthenware and is often used as a substitute of stone. It has been an integral part of Indian and Chinese culture. Terracotta tiles were used for decorating walls of temples. In our modern lives, terracotta tiles definitely add to the aesthetics as well as the green cause. Taken by its innumerable and cost effective qualities, these tiles are now becoming a favorite among builders and homeowners.
Features
Terracotta tiles are made of the basic natural elements, water, clay and fire. As they are usually hand made and fired, no two Terracotta tiles look exactly the same. The color of these tiles ranges from honey, orange to dark red or brown. The thickness of the handmade tiles is usually 25 millimeters. Teracotta tiles comes in a variety of patterns, shapes and sizes. Geometrical, plain and floral are some popular patterns.
Durability
If the terracotta tiles are properly burnt, they are not affected by the atmosphere or any elements. But they are porous and need to be sealed properly. Once sealed, Terracotta tiles are heat resistant as well as water resistant. They are also bacteria and allergen resistant. These tiles are not as hard as the conventional tiles, yet they are more durable.
Suitability
Once sealed, terracotta tiles can be used almost anywhere. Apart from flooring, they can also be used for roofing and walling. Due its properties, these tiles can be used in patios and driveways. Inside they are popularly used in the living room, kitchen and bathroom. these tiles are do not feel cold under the feet like traditional tiles. Terracotta tiles are quite versatile.
Tips on installing Terracotta tiles
Installing terracotta tiles is comparatively a complex process and is best left to a professional. It is usually a two day job. Aldo, the grouting needs to be done with precision.
The sub floor should be clean, solid and dry. Terracotta tiles can be installed over a vinyl floor. If the existing floor is of any other tiles, it has to be removed first. Thin cement adhesive should be used.Before going for grouting, the floor should be let to dry for at least 24 hours.
Although Terracotta tiles may be uneven, it is advised not to go for chiseling these tiles as it will remove the vitrified layer and make them porous.
Maintenance
Terracotta tiles are simple and easy to maintain. Floors tiled with terracotta just needs to be thoroughly swept and cleaned with a mild household detergent and a damp mop. From time to time, a grout cleaner may be used to keep the grouting from darkening and becoming dirty. Also, there are several terracotta specific cleaners available in the market.
Advantages
Eco-friendly in nature, terracotta tiles are heat and water resistant and bacteria and allergen resistant. They are suitable to be used anywhere in the house and looks better with age. Being porous, they create a climatic balance in the room. Lastly, they are durable, affordable and easy to maintain.
Disadvantages
Needs proper sealing and as clay shrinks on burning, the tiles may be uneven.Installation takes time and the process is comparatively complex.
Terracotta has withstand the test of time. Terracotta was used extensively for housing in the medieval times, both exteriors and interiors. After a being a part of many ancestral homes and then forgotten, these eco friendly tiles are making a slow comeback. In today's environment conscious society, terracotta tiles definitely adds a natural look to our homes. More importantly, they add more elegant greenery to our lives.