For all the eco conscious water lovers, Hammacher Schlemmer has launched a limited edition Electric Boat which provides effortless waterborne expeditions for a couple for up to six hours. This innovative rechargeable electric watercraft is a boon for a rider that has a built-in motor-powered water canon to continuously shower a stream of water up to 35′. This electric Boat on Hammacher can prove to be a luxurious treat for the water surfers to spend a day on waters where tranquility and peace engulf the environment. To pep up the mood, you can enjoy some foot stumping numbers using the two waterproof 5" speakers with which come along with a 124-watt audio system. Portside control knob can be used to alter between five forward and two reverse speeds.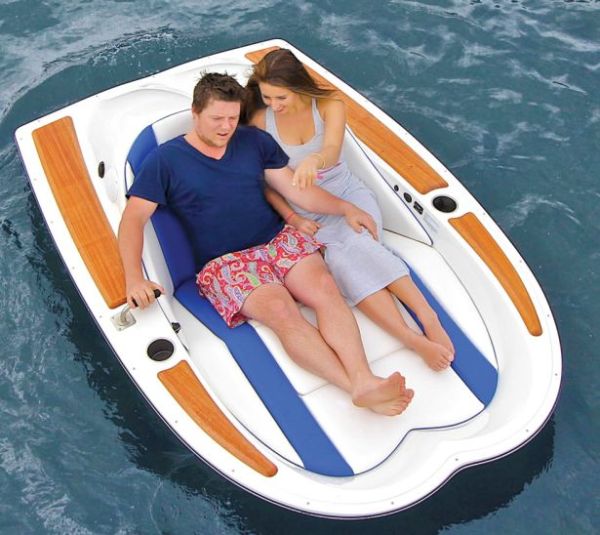 This electric boat is a great eco-friendly option for fishing in the middle of a calm blue lake. Using the latest fiberglass technology and a centrally mounted compressed 12-volt motor, this electric watercraft runs on a routine deep cycle nautical battery and charger. It offers quick maneuverability to a rider at speeds up to 3 1/2 miles per hour. With chromed moldering, a cooler to hold 24 bottles/cans and stainless steel drink holders, this water cannon electric boat will soon become a choice of proves to be a great way to contribute towards saving our planet.
For added comfort, it comes with soft twin foam-padded recliners stuffed in marine-grand vinyl. You can become a proud owner of this eco-friendly watercraft by shelling out $4,000. With a delivery period of 3-4 weeks, this is a limited edition from Hammacher Schlemmer. To turn your leisure time into a luxurious extravagance this can be great option.
Via: Designcot