For a very long time, water-based activities haven't been too Eco-friendly especially when one wants to enjoy an afternoon of lazing around in a motorboat. Luckily, the recent developments in the electric powertrains have also been adopted by watercraft makers and this stunning electric watercraft is the perfect illustration of how water-based activities can be enjoyed without polluting the delicate marine Eco-system. The limited edition Electric Motorboat from Hammacher Schlemmer is designed for use by up to two adults weighing a total of 550 lbs or one adult and 2-3 children.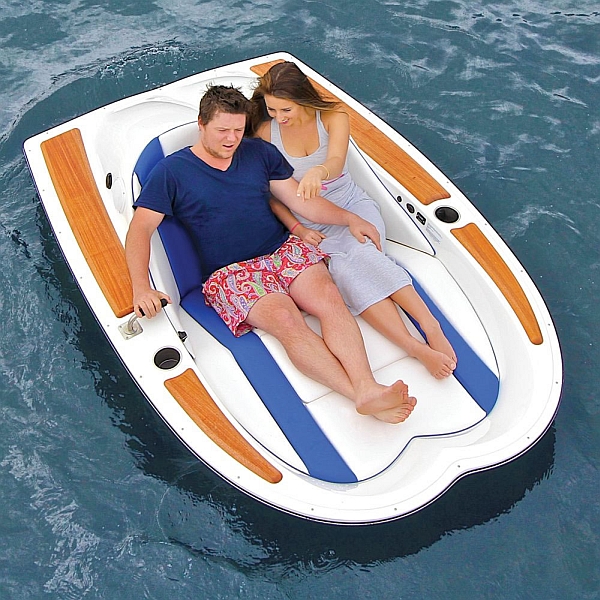 Ideal for visiting neighboring docks, finding fishing spots, getting to off-shore swimming holes and leisurely cruises around ponds and calm lakes. Powering the two-bladed propeller in the watercraft is a 12-volt electric motor that has a cruising speed of 4 miles per hour and runs on dual sealed lead acid batteries that can last up to 6 hours of continuous use.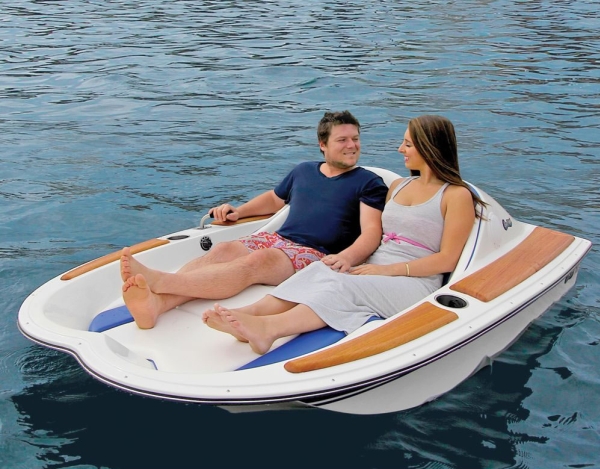 The electric motorboat comes with recumbent seats that are padded in foam and covered in water- and weather-proof vinyl. The cabin of the watercraft is also tastefully decorated and features stainless steel drink holders, chromed moldings and mahogany trimmings that compliment the fiberglass construction of the watercraft.
The electric watercraft uses a thumb-driven throttle and a starboard hand tiller that makes steering more intuitive. The boat can be driven using two reverse and five forward speeds via a set of portside control knob switches. On-board entertainment provided via a 24 bottle/can-capacity cooler built into the cabin and an iPod-compatible 5″ speakers120-watt audio system which is completely waterproof and safe for use in the water. The electric watercraft measures 94″ long x 62″ wide x 26″ tall and weighs just 195 lbs which allows it to be easily hauled in a trailer.
Via: Hammacher