It is one thing designing all those fancy apartments and studios and a whole different thing when it comes to putting in a bar in a submarine. To celebrate the 250th anniversary of Arthur Guinness signing the 9,000-year lease on St. James's Gate Brewery in Dublin, Guinness wanted someone to design a very special bar for their special submarine. The task was accomplished by London based Jump Studios as they successfully managed to design a bar inside the deep sea vessel that met both the luxury standards and the look that was befitting of Guinness and the safety standards that come along with such a venture.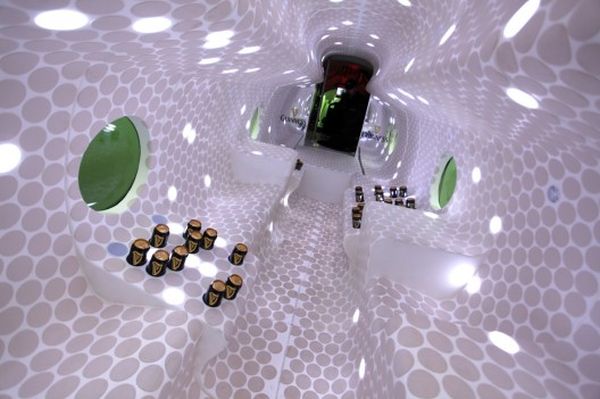 Crafting an interior that pretty much was the same size as that of the space available in the submarine was difficult, but the designers managed to do that by separately crafting the components and then assembling them in freezing cold conditions in Sweden, where the submarine was located. The entire seating, tables and other units were covered in rubber surface and LED lighting installations were incorporated to give the bar some cool lighting.
The interiors were crafted carefully keeping in mind the image of Guinness and the specific look that they would desire for such a project. Turning the limited space in a submarine into a bar is a task in itself and having to meet the safety standards with proper fire safety mechanisms was also an integral part of the design. Considering how the sub made a trip down to the bottom of the Baltic once the bar was fitted in, you will surely get a buzz of more than just one kind inside this bar.
Via: Archdaily