Greendix develops world's first leaf-shaped crystalline solar panel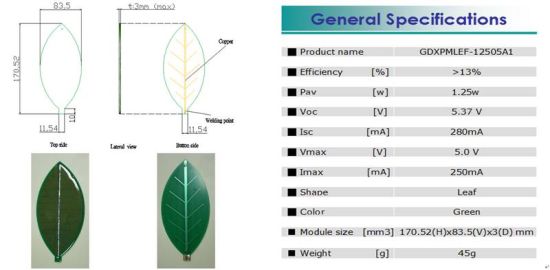 Eco Factor: Solar panel designed in the shape of a leaf.
Solar power is definitely green and companies like Greendix have started efforts to make these panels look green as well. The company has developed the world's first leaf-shaped crystalline silicon solar panel in the world via new proprietary technology.
Greendix's breakthrough new patented technology allows the manufacturing of custom shaped crystalline silicon solar panels. Greendix solar panels are also available in a variety of colors, so designers are not longer restricted by the usual rectangular shapes and dark colors.
Greendix's new patented process offers designers unlimited new ways to integrate solar technology into their projects. This leaf-shaped solar panel is the first of many products showcasing this new technology. Greendix states that the company wanted to revolutionize existing technology so that it can seamlessly merge with our surroundings.
Greendix's solar tree concept not only provides aesthetic advantages, but also serves as a viable alternative to traditional solar panels in the generation of electricity from the sun. The company also plans to develop several new custom shaped solar panels in the near feature to show case the potential of this new market.
Via: Greendix [Press Release]